FOP National Day on the Hill in Washington DC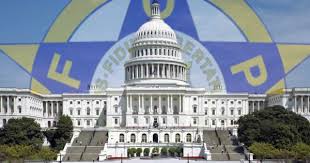 2020 National Day on the Hill
Washington DC
February 10-12, 2020
The 2020 Day on the Hill will begin on Monday, 10 February 2019. The National Legislative Office and the National Legislative Committee will host a short briefing on our legislative agenda. The briefing will take place on Monday afternoon at D.C. Lodge #1 and last approximately one hour.
Tuesday and Wednesday, 11-12 February, will be devoted to your meetings with Members from your home states and districts. These appointments should be made in advance! Event participants should make every effort to have their Representative or Senator attend the meeting along with the appropriate staff person.
For more information, click the National FOP Lodge link on the left side of the Home Page or go to https://www.fop.net Details for Day on the HIll are under CURRENT EVENTS on the National Lodge website.
***THIS YEAR'S REPRESENTATIVES HAVE BEEN SELECTED***