Spring 2020 Board Meeting is Cancelled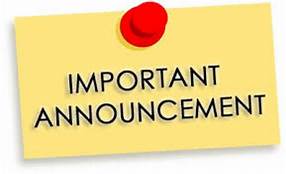 See more information attached
As you are completely aware by now, concerns about the Pandemic of COVID-19 has caused everyone to re-evaluate meetings and gatherings. I am not going to cite all the facts that everyone already is aware of, yet all the cancellation notices seem to unnecessarily repeat. You know why.
Therefore, due to health concerns of our members, The 2020 Spring Board of Directors Meeting originally set for April 18, 2020 at Prairie Band Casino and Resort, is hereby cancelled.
This meeting will not be rescheduled. We will obviously be re-evaluating the situation on a daily basis in order to make the best decisions on how to proceed with future meetings together. We have just begun conducting executive meetings on-line. If a Board of Directors (basically the State Trustees) meeting is necessary, we may go to an on-line meeting format.
Our next meeting will be the Kansas State Annual Conference, at the Hilton Garden Inn in Topeka, Ks on June 26-28, 2020. Please continue to make plans to be there until you hear otherwise.
Please share and send this to the entire membership.
Download:

Cancellation of 2020 Spring Board Mtg.doc