Saturday April 18, 2020 Kansas City
KS C.O.P,S, needs your help!
On Saturday, April 18th we are hosting a Black & Blue Ball. KCK FOP Lodge #4 has agreed to purchase two tables at the event. They are planning to invite the surviving family members of Officer Brad Lancaster and Captain Dave Melton and possibly the family members of Police Officer Jeffrey A. Young and Reserve Officer Michael E. Haen to join them at their table.
I am preparing a personal email to the Presidents of the other Lodges and to the head of several LE Departments to obtain their support and to consider doing the same. I believe this is an excellent opportunity for the Lodges and Departments to reach out to Survivors and let them know they are not forgotten and their loved one is remembered.
One of the biggest complaints I hear from survivors is that the department has forgotten them. After that initial wave of support is gone, they feel lost. Wouldn't it be wonderful to let them know they are remember!!!
I believe if we get the support of the State Lodge, the local lodges will follow suit. Basically what I am asking is that you and your board would consider sponsoring a table to the event. I'm attaching the event flyer and ticket order form. You can invite whomever you like or have your executive board attend.
I look forward to hearing from you. Your input and participation is greatly appreciated!
Sincerely,
Linda Bohlender
President
KS C.O.P.S.
Wife of Officer Joey Bohlender, Topeka PD, EOW 6-13-2000
785-213-6463
www.kscops.org
FB: www.facebook.com/kscops
Twitter: twitter.com/ConcernsKs
Instagram: www.instagram.com/c.o.p.s._kansas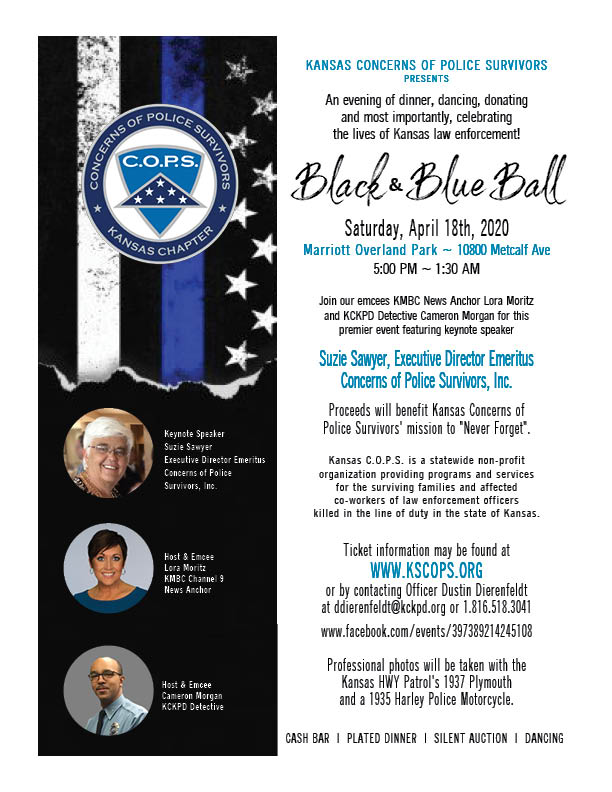 Download:

BBBTicketOrders (1).jpg