Lodge #55 Membership Dues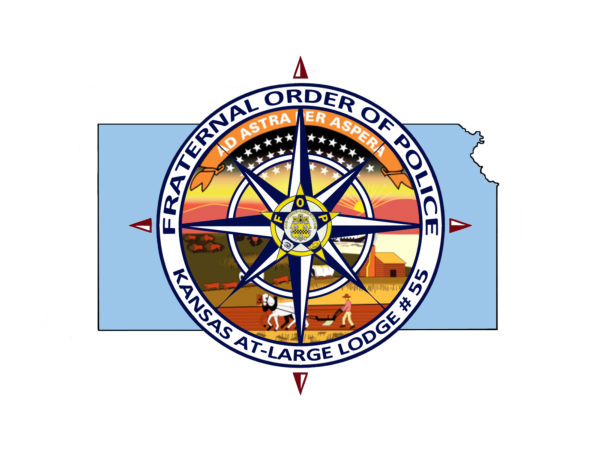 Members of the Fraternal Order of Police At Large Lodge,
The 2020 Dues are now due! (Actually the ByLaws state they are due on November 30th every year. The executive board has extended the payment periord for you.) $40 per year, payable to the Kansas State Lodge. This amount covers both your Kansas State Lodge per capita ($27) and your Grand National Lodge per capita ($13). Mailed checks are only accepted at this time, but we are close to having on-line renewal capabilities.
Checks can be mailed to:
Kansas State FOP Lodge
477 North Seneca
Wichita, Ks 67203
"But I didn't get a notice!"
In 2018, because of the costs involved, the Kansas State Lodge announced we had ceased sending out dues notices via hard copy (Snail Mail). We broadcasted notices and posted information that this was forthcoming on our state website, our Facebook page, in our newsletters and announced it at every meeting. This information was e-mailed to all of the At Large members who provided an e-mail address to the State Lodge when they joined. Instructions were provided to Members of the At Large Lodge on how to pay their dues annually.
In spite of all of these attempts, very few members actually paid their dues. Most members unintentionally missed paying their dues for 2019 and 2020. To the members who kept current on their own, we send our gratitude. However, because of ever-changing e-mails, changing of employment, and general attrition, the State Lodge did not have complete up-to-date information on each and every member. We have been working hard to render this problem. This year, we have cross reference our rolls with KS CPOST active law enforcement lists as well as checking with home departments. We also sent out new requests for members for updated information at the end of the year. Many phone calls have been made and we appreciate everyone's cooperation.
Beginning February 1, 2020 we will be dropping any member who has not their dues for 2019 and 2020. As per the ByLaws, anyone who is in arrears over 90 days will be suspended and dropped from the membership. Please understand, we do not wish to drop ANYONE from the lodge, however in order to protect the integrity of the membership and to make sure we are fronting dues to persons who do not wish to remain in the lodge, we must vet every member. This is being done for your protection.
REMINDER. In order to be a member of the FOP Legal Defense Plan, you must be a current member of the FOP. Current member means you are caught up on all dues. If you are in arrears in your dues, beginning in February 2020 it will be necessary to drop you from the rolls and you will lose Legal Defense. You will have to re-enroll all over again.
If you wish to continue membership, and we hope you do, you'll need to contact the State Secretary, John Ryan at secretary@kansasstatefop.org to find out your total amount owed, (either $40 for 2020 or $80 for 2019 and 2020). You can certainly contact either the secretary at secretary@kansasstatefop.org or the president@kansasstatefop.org. We are certainly willing to work with anyone on payments.
PLEASE REGISTER. After you renew your membership, please sign up in the member area of our website, kansasstatefop.org This is where your future information is going to originate from. Sign in and register as a member. As you do, your e-mail is automatically uploaded so we can send you information. When your dues are paid and received, your account will be activated.
Finally, while contacting members of the At Large Lodge in order to update information, I was told several times that this was the first time anyone from the State Lodge had reached out to them. We obviously need to improve communication. I wish extend an invitation to each and every At Large Lodge Member that you all welcome to contact me or any other E-board Member at any time.
A common conversation I had with members is that they had no idea about the numerous benefits of membership through the State and National Lodges. Please see fop.net for National Benefits and kansasstatefop.org for State Benefits. Did you know you or any of member of your family can get FREE College Tuition? Did you know you have a Accidental Death and Dismemberment Insurance Policy for each of you? Are you aware you have a lobbyist who represents you in the Statehouse in Topeka? Did you know you can join a the National Police Credit Union and they have extremely competitive rates for FOP Members Only. Did you know that you can chose between either a $310 or a $68 Legal Defense Plans? These are things your State Lodge can assist with. Please feel free to contact any of us at any time.
Be Safe, Watch out for each other.
Fraternally,
Mik Shanks
President
Kansas State Lodge
Fraternal Order of Police
785-550-6686